I will soon be delivering a workshop for performers and practitioners that explores how and when the performer's body might disrupt otherwise dominant uses of language. This is my first opportunity to bring together performers and practitioners to challenge and elaborate my PhD's key findings with their accumulative knowledges, skills and experiences. This is something that's precious to me as a theatre and performance maker interested in decolonising the languages of our stages.
'The body, making and (s)languaging' will take place on Friday March 13th 2020 at the Birmingham Rep. I hope for it to be a meeting place for artists from the Slanguages strand of the 4-year AHRC/ University of Oxford research project Creative Multilingualism, as well as artists with an interest in the role of the body in disrupting or decolonising languages. We will kick-off just after noon, with the day's proceedings going something like this:
The workshop will open with Professor Rajinder Dudrah's summary of Slanguages projects over three years, each creatively drawing from local languages in new performances, while asking the following questions:
What creative processes are involved in negotiating the interaction between different languages in performance?
How significant is linguistic diversity (including register) for the creative aims of the performers; and,
How do languages and creativity come into play in foregrounding, negotiating, and/or downplaying cultural difference?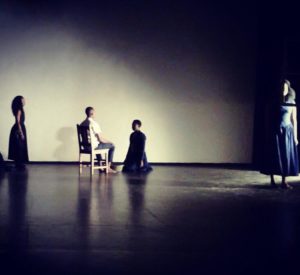 I will then take the group through the overarching aims of my research in South Africa, Australia and the UK that has looked at methods for facilitating actors to draw on their linguistic resources more widely and that avoids the reproduction of linguistic hierarchies.
I will introduce key useful concepts that emerged within this research, focusing on the term languaging as a way forward to discuss language as a process in flux, always changing with and through the lives and bodies of its actors. I will point to the central role of the body in catalysing languaging, allowing the performer to draw from resources most relevant to the story at hand and their own personal experiences.
South African director, choreographer and actor Micia de Wet will then guide the group through an improvisational session exploring the body. De Wet combines her dance experience with acting training exercises that ask actors to increase their awareness of spatial relationships in relation to the entire body.
We will break from the thinking and doing for eating sweets and drinking tea.
Through open space methodologies, we will collaboratively explore key moments in performance-making and rehearsal processes where we have observed performers using language/s in different ways.
At the end of the day we will come together to debrief and evaluate both the methodologies and provocations to take with us out of the room.
Update 24th FEB 2020: This workshop is now full and running a wait list. To join this wait list, please send an email to me at Claire.French@warwick.ac.uk – including your name, a couple of sentences on work that you have been involved in and why this workshop interests you.
The event listing on the Creative Multilingualism site is here. Looking forward to my next blog post about the event.
This workshop is supported by Slanguages, Creative Multilingualism, Birmingham City University and the Institute of Advanced Studies at the University of Warwick. Pictured: A workshop that I facilitated for the Old Vic's community company @ Jerwood Studios